Our school will now enter an online learning mode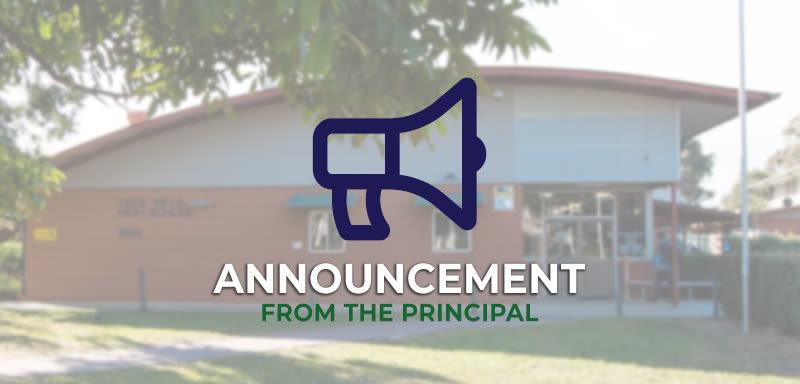 Dear parents and carers,
As you are aware, the Premier of NSW has advised that parents should keep students home from school if possible. This means that our school will now enter an online learning mode with only minimal supervision provided at school for those parents who are unable to keep their children at home.
It is important to note that for students who attend school, teachers will not be seeing their normal class face-to-face and there will only be minimal supervision.
Students will be working online whether they are at school or at home. The school has been working on our Continuity of Learning Program and Procedures in the event of a move to online learning to ensure that teachers are supported to provide teaching and learning experiences.
To reiterate the Prime Minister's comments, during this difficult time it is important for parents to be aware that they are responsible for their children when they are home.
Please note the following:
Devices: As a BYOD school, we already use online learning platforms including Moodle (https://web3.cecilhills-h.schools.nsw.edu.au/moodle/) and Google Classroom (https://classroom.google.com). We will also start to use another platform called Microsoft Teams which will facilitate staff collaboration and online learning.
Minimal supervision at school: Minimal supervision will be provided in classrooms at school where students will work online and continue with lessons. Online learning will follow the normal timetable. For example, if a Year 7 student has History during Period 3 on a Wednesday, this is when the student is required to log into Moodle and complete their work for History. Please note that the student's normal classroom teacher is unlikely to be the teacher providing minimal supervision.
Online attendance: Teachers will be checking to ensure that students are logging into Moodle and participating in lessons. It is the responsibility of students to seek clarification from their classroom teacher if they require assistance.
Technology issues: Parents should email cecilhills-h.school@det.nsw.edu.au if they have issues with student access to a computer or internet at home so this can be addressed. Please email the school to access support from the Technical Support Officer.
Home study area: It is important for students to have a home study area free from distractions. This can be challenging for families with multiple children and parents should ensure there is a suitable study environment in the home. If teachers are using videoconferencing via Microsoft Teams, it is important for students and parents to be aware of the appropriateness of their home setting and privacy issues.
Respectful, responsible, successful: Our normal behaviour expectations apply in an online environment and students are expected to participate in online lessons following our FOCUS values.
Assessment tasks: Tasks are expected to continue according to the dates in our published assessment booklets: https://www.cecilhillshigh.nsw.edu.au/assessment-booklets. Teachers will provide further information on tasks that need to be redesigned (eg, tests) and there may be a small number of tasks where the assessment date is modified.
Evidence of learning: We have asked teachers to determine how learning will be evidenced for each class in each period. For example, this could take the form of an electronic submission, an online discussion, a photograph of a work sample, a quiz, a project, etc. It is important that students participate in each lesson and demonstrate evidence of learning.
Practical lessons: Teachers have been asked to modify practical lessons in particular to ensure continuity of learning.
Canteen: The canteen will be closed and cannot provide a service at this time. Students who attend school are required to bring their own food.
Senior students: For HSC students, there is a meeting of the Board of the NSW Educational Standards Authority tomorrow and we expect to clarify some matters in relation to the HSC. Senior students are reminded that Edrolo (www.edrolo.com.au) is available for selected courses. Senior students completing EVET courses are advised to contact TAFE for information on how their course will be delivered. VET work placements have been cancelled.
Routines and digital detox: It is important for children to have a routine during these difficult times. Parents are asked to ensure children have appropriate balance during the day and night and have opportunities to work, play, rest and sleep. As students will be accessing devices for longer periods, parents are encouraged to consider a 'digital detox' for their children as appropriate.
Welfare support: The school will still provide welfare support to students. If a student needs to contact their Year Adviser, they can do so via email to the Year Adviser or to cecilhills-h.school@det.nsw.edu.au. Contact with the school counsellor can be made by emailing the school.
Parent-teacher interviews for Year 11/12: Teachers will be making phone contact with parents of Year 11/12 students who made bookings for parent-teacher interviews. This will occur over the next two weeks.
Staying up to date: Parents are asked to ensure they do the following to stay up to date:

check your email address that is registered with the school
download the check the Cecil Hills HS app by School App Solution
like and check the school's Facebook page

Information from the NSW Department of Education: The following website has all relevant information for NSW public schools: https://education.nsw.gov.au/public-schools/school-safety/novel-coronavirus
I appreciate the support of our teachers, parents and students at this time to ensure we have continuity of education, which is our main aim. I will provide further updates as necessary. Please do not hesitate to contact the school if you have any questions.
Mark Sutton
Principal
Cecil Hills HS